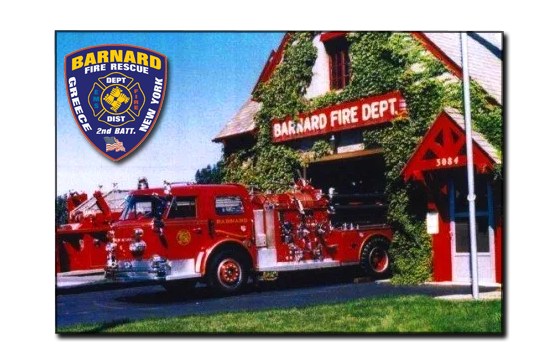 The Barnard Fire Department was incorporated on April 15, 1927 by a group of actors, known as the Harmony Dramatic Club, who realized that a small area of Greece, NY was not receiving fire protection services. Unfortunately neighboring departments, Greece Ridge (Ridge Road) and North Greece, were unable to service this area due to a state regulation that dictated that a fire district's boundaries could not extend beyond 5 miles from the station. With the majority of the area being farmland, boundaries were challenging to establish, which can be realized even more today as a small section of Greece is serviced by 3 departments.
The original station was erected in 1928 and served as a public safety facility housing both fire and police under one roof. As both departments grew and the need for services expanded, the police department moving into a new location and the existing firehouse was expanded to house additional apparatus and offices. The first fire alarm sounded on February 4, 1928 with Errol McBride serving as the department's first fire chief. Later that year, the Department purchased its first new fire engine - a 1928 American LaFrance.
When people hear Barnard, many associate it with the Fireman's Carnival which began in 1928 and culminated in 2016. The carnival was by far the biggest fundraiser of the year and has paved the way for other events, including the popular Bands at Barnard summer concert series.
Originally serving as an all-volunteer force providing fire and ambulance services, the department has evolved into a combination career/volunteer organization responding to more than 3000 calls annually, while also providing mutual aid and fill-in services to Ridge Road, North Greece, Rochester, and other neighboring districts..